about tunisia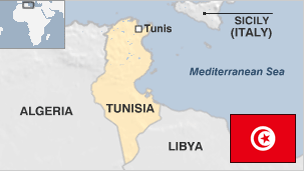 To many people, Tunisia presents itself as an excellent example of a Mediterranean country that is also part of the Arab and African world due to the dynamism of its society. It is also a country that marvelously combines tradition and modernity. Finally Tunisia is a country which succeeds in combining its own indefinable charm with other, European-like qualities.

Home of the ancient city of Carthage, Tunisia was once an important player in the Mediterranean, placed as it is in the centre of North Africa, close to vital shipping routes.
In their time, the Romans, Arabs, Ottoman Turks and French realised its strategic significance, making it a hub for control over the region.
It may be but a slim wedge of North Africa's vast horizontal expanse, but Tunisia has enough history and diverse natural beauty to pack a country many times its size. With a balmy, sand-fringed Mediterranean coast, scented with jasmine and sea breezes, and where the fish on your plate is always fresh, Tunisia is prime territory for a straightforward sun-sand-and-sea holiday. But beyond the beaches, it's a thrilling, underrated destination where distinct cultures and incredible extremes of landscape can be explored in just a few days.
Tunis is refashioning itself as an ambitiously modern Arab capital, though both its long Ottoman and not-so-distant colonial past still have a powerful, palpable presence. In the north, lakes teem with pink flamingos, surprising deep-green forests rise up from the coast, and gently rolling plains are dotted with olive and citrus trees. To the south, the ever-enchanting sands of the Sahara stretch deep into Africa and the traditions of the indigenous Berbers persevere.
Tunisia is located at the junction of the eastern and western basins of the Mediterranean, just where the Straits of Sicily separate it by 140 kilometers from Europe. This geographic position that made Tunisia a crossroads of civilizations throughout history, makes it today a platform for investment as well as for production and trade.

Tunisia is more prosperous than its neighbours and has strong trade links with Europe.
Flight time
| | |
| --- | --- |
| Tunis– Rome | 1 hour |
| Tunis–Barcelona | 1 hour and 50 minutes |
| Tunis– Madrid | 2 hours and 15 minutes |
| Tunis– Paris | 2 hours and 20 minutes |
| Tunis– Frankfurt | 2 hours and 30 minutes |
| Tunis– Brussels | 2 hours and 40 minutes |
| Tunis– London | 2 hours and 50 minutes |
| Tunis– Cairo | 3 hours and 5 minutes |
| Tunis– Jeddah | 4 hours and 20 minutes |
| Tunis– Copenhagen | 3 hours and 30 minutes |

Geographical data
Land surface
162,155 km2
Situation
North Africa, 140 km from Italy
1,300 km of coastline along the Mediterranean
Climate
Mediterranean, 11.4°C in winter and 29.3°C in summer
Time zone
GMT + 1
Capital
Tunis (2.5 millions inhabitants)
Main cities
Tunis, Sfax, Sousse, Bizerte, Kairouan, Gabes
Languages
| | |
| --- | --- |
| Official | Arabic |
| Common languages | French, English, Italian |
Population
| | |
| --- | --- |
| Population (2012) | 10.8 million inhabitants |
| Growth rate | 1.29% |
| Population living in cities | 66.2% |
| Working population | 47.8% of the population at large |
| Literacy rate | 82.8% |
| Life expectancy | 74.9 year |
| GDP/inhabitant | 6,680 TND |
Institutions
| | |
| --- | --- |
| System | presidential |
| Administrative organization | 24 governorates subdivided into delegations |
Currency
Tunisian Dinar (TND)
1 TND = 1,000 millimes
Exchange rate
2013 average
1 TND = 0.597 USD
1 TND = 0.441 Euro
1 TND = 61.514 JPY